Technology, Data, Transformation, TDT the foundation of our business.
TDT Analytics Recognized Among Top 10 Banking Analytics Solution Providers 2016 by Banking CIO Outlook
TDT is a leading Business Analytics and Consulting company.  Based in North America, we provide Business Analytics services, Predictive Analytics, Consulting, & Business Process Transformation to companies in the U.S, Canada and Europe.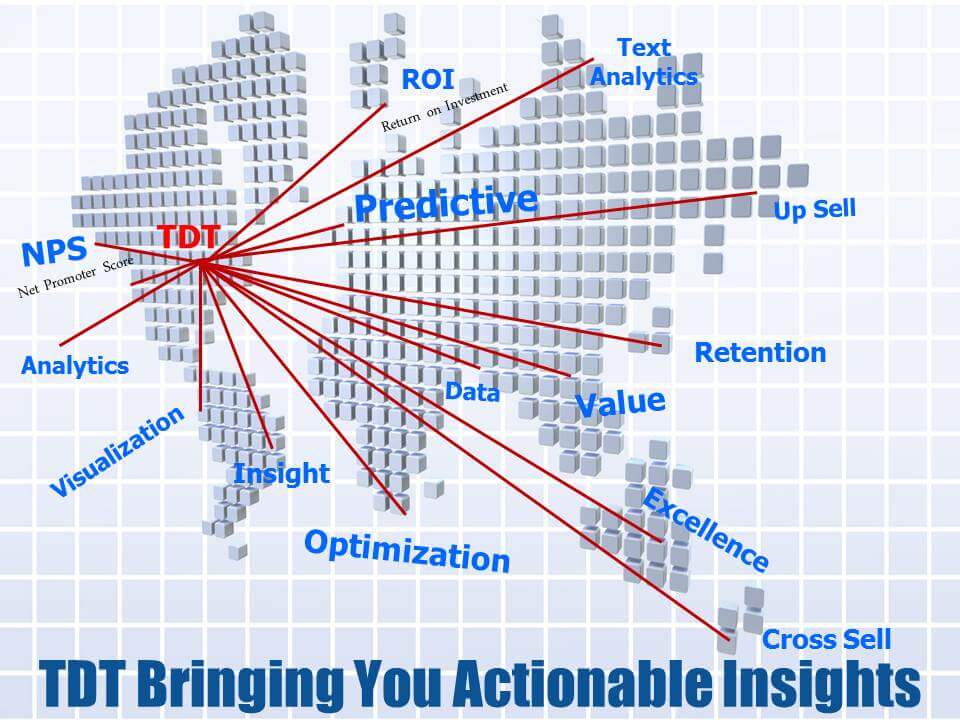 Our business objective is to help and assist organizations by providing business insights to all employees, enabling cross company collaboration, leading to better, faster more relevant fact based decisions. 
Our customers include numerous prestigious international airlines, hotel vendors, courier services companies, Financial Institutions, travel agents (on-and off-line) and travel technology companies. We typically add value through the application of Business & Predictive Analytics, lowering costs, lessening management distractions, as well as improving quality, productivity and time to market.
TDT specializes in Predictive Analytics across all verticals and embedding the outcomes in our powerful KPI visualization tool allowing for trending, forecasting, and what if analysis.
Our analytics unlock hidden knowledge for effective decision-making and optimization. Our tools analyze your data, display near-real-time key performance indicators, and continually refine the rules and predictive models that drive effective model-based decision-making.
Analytics Trumps Intuition.
Our services include:
Customer Regression models identifying Customer Lifetime Value and Propensity to Quit

Customer Up-sell and Cross Sell models.  Identifying the Next Product to Buy

Margin Pressure and Optimization.  Defining price optimization and implementing what if Monte Carlo Analysis

Customer Service.  Understanding the mound of unstructured data and translating it into actionable insights.

Product Forecasting

Sales and account management optimization
TDT